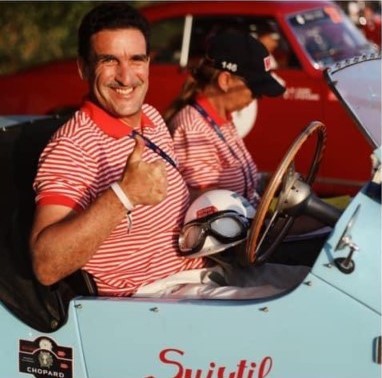 Grazie Mille (that was easy…)
It was that time – just slightly off the regular timetable of the 1000 and everyone (at least everyone we know) were looking at whether things would work out –  and how? – for the Mille Miglia. Last year's edition had to be dramatically curtailed because of the pandemic and this year's good signs about the sanitary issue receding in the background were still fresh. But still – would it work? Had the magic of it all not been broken?
We, here, were all the more concerned that we knew of many friends who were planning for the trip – to race, to spectate, to have a grand old time as they normally do. In fact, let's remember, it's Italy in June – who needs a reason beyond that?
The fact that the Mille has been qualified as "the most beautiful race in the world", or that some of our heroes have fought it fiercely, and even won it (one of whom, we miss him everyday, still owns – and will forever – the 10 hours record) at the wheel of achingly beautiful machines – no bearing at all. The idea that all of this is somehow meticulously reconstructed somehow captures a spirit that's akin to a "Revival on the road" – we give it no mind at all.
No, the real magic of the Mille is with the people – those who organize it, the lucky ones who manage to get their cars accepted in, the policemen who massage the traffic into something a little more manageable, the magicians who keep the machines running, the afficionados who officiate as navigators – and the entire Italian community – knowing a good thing when they see one – who comes out to spectate and cheer the whole enterprise – so at life speed! That's what makes it all worthwhile and that we were worried could have somehow gotten lost this time around. Well, our fears were misplaced – to say the least – and the 1000 show came back to town,  bigger than ever, more fun than ever and delivered on all cylinders.
And before we go on and drown you in a sea of gorgeous images that will better demonstrate what we mean than we ever could, let us first quickly thank the many people who have contributed to the making of this gallery and the stories that will surely follow, in no particular order: Julia and Mariano (from Suixtil USA – but you knew that), Jose and Maria (who, as always, have been generous to a fault), Gino (from Pilota, our Belgian partners, who came to support their many friends and clients), Hans, Donald, Gigi, John and Rutger (yes, from the Houtkamp Collection, who have been responsible for a growing number of successful entries and have done it yet again this year), Fritz, Christian, Jochen, Richard, Elad, Bruno, Tom and so many more. Once again, we salute you and hope to see you again at next year's edition – at life speed!
There is just one thing we'll ask from you before you get diving into those photos, it is to spare a thought for Reinhard, our friend (and, through his Classics Unlimited company,  distribution partner in Austria) who suffered the loss of his 911 Targa at the hand of some thieves while down there to support the event. What a crying shame, check the last 3 photos to understand !