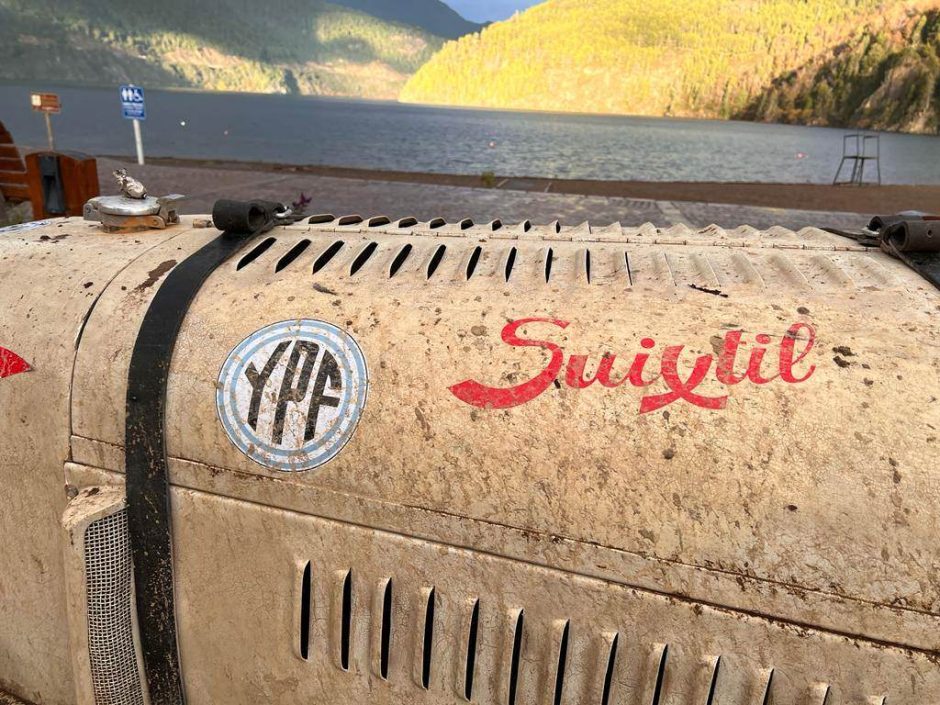 Route 40 (the longest in South America) – Part 2
If you follow us regularly, you know that our friend willy (the very Dandy Driver) has started a daring expedition down one of the longest roads in the world – otherwise, you can find all about the first stage here and, once you're good and ready, join us here, now that he is back (and Suixtil, literally, along for the ride – just like in the early days of your brand) in the baquet for the second leg of the voyage …
Stage 7 Mendoza – Malargüe
And it's back to the grind, a few days after finishing the Northern part of the road. My car needed some services and adjustments, and my friend's baquet also needed some serious TLC to be able to carry on with the challenge. So, we left at around 11 AM, heading south. we then took a little detour to visit a friend who was waiting for us at his mountain refuge near Tupungato for a typical Argentine barbecue ("asado"). Of course, we had to forgo the excellent wine, since we still had to drive about 300 km to our next stop. And, of course also, the barbecue lasted for hours. By the time we finally left, it was snowing heavily and the drive was hard, at very low temperatures and with the route muddy until we reached the pavement of Route 40 again. The night fell quickly and we arrived frozen at the next parador for a halt. We then had to steel ourselves, get back into the cars and face the last remaining kilometers to Malargüe.
Stage 8 Malargüe – Chos Malal
We woke up early with the idea of covering as many kilometers as possible in the morning. But first, we had to collect a stamp in our Route 40 passports from the Malargüe Tourism Secretary – a ritual for all travelers on this road. As we left, the clutch on Patricio's racer gave up and forced us to look for help. Luckily, back in 2016, I met a friend here who helped me with my Ford Model A, while I was taking part in the Grand Prix de Baquets. We drove to his workshop towing Patricio's wounded machine and Leo repaired it while we devoured meat empanadas to improved our mood.
We then got back on track for the 334 km we had to cover to Chos Malal – a road that oscillates between hard to navigate and incredibly difficult – what a prospect. We stopped to rest and have a drink with about 100 km left and as the sun began to set: we were starting the night-shift in "The Black Pampa", a natural reserve that comprises more than 800 volcanoes. And that's when, shortly afterwards, the engine mounts of Patricio's Buick 6, exhausted by the bumpy roads, gave way and his engine fell through – an issue that would now plague him regularly… We finally made it to a nice hotel where we were able to grab some rest some before our next adventures…
Stage 9 Chos Malal – Villa Pehuenia
Chos Malal, in the north of the province of Neuquén, means "Yellow Corral" in Mapuche owing to the color of its soil and rocks. As we ready ourselves to leave, we realize that our friend's car has a flat tire, not the best of starts. We then leave in the direction of Las Lajas, along an incredibly beautiful route, with changing colors, desert, rivers, mountains, etc. It is a desert and mostly inhospitable route despite the many legends that are whispered around. we detoured slightly to head to Villa Pehuenia to enjoy very beautiful landscapes and, with luck, some early snow. Lucky we did get, and got to travel about 150 kilometers along a mud and snow road – undoubtedly one of the high points of the trip before arriving at the picturesque Villa Pehuenia that also offers some nice accommodation too – a welcome change.
Stage 10 Villa Pehuenia – San Martin de los Andes
We leave Villa Pehuenia and immediately take the dirt road that borders the Aluminé River. What a beautiful road, what places, what colors. The Aluminé changes color depending on the vegetation and as the sun shines on it, it can look blue, turquoise or green. It would all be perfect, if it weren't for the corrugations in the road that prove, again, too much for the engine mounts of the Buick 6 – we fix it at best we can and keep going, hoping to get back on the asphalt soon… This causes Patricio's to be in a foul mood and he leaves ahead, worried, no doubt, that the fixes won't hold and we don't see him until San Martin de los Andes, a very beautiful city in Patagonia.
Stage 11 San Martin de los Andes – Bariloche
The last day of the expedition starts with a lot of rain and cold. After breakfast we take the courage to uncover the car and get in in the rain. But by the time we reach the shore of the lake, the sun makes and apparition while it continues to rain and a huge rainbow greets us goodbye. This section of Route 40 is the Road of the 7 Lakes, because, for a 110 kilometers stretch, you can see unparalleled natural settings made up of the Espejo, Correntoso, Escondido, Villarino, Falkner, Machónico and Lacar lakes. It is a winding mountain road that goes through dense forests of native species and crosses the Lanín and Nahuel Huapi National Parks. The final stretch of this last stage culminates with the arrival at the famous city of San Carlos de Bariloche that lies on the shore of the immense Nahuel Huapi Lake.
We have thus far traveled about 3500 km from La Quiaca to Bariloche, where we left the cars to be transported back to Buenos Aires as they'll need some repairs while we go home to rest and map the last stage of our journey for when summer arrives. We will then be able to travel the remaining 2,900 km needed to reach the end of the world – Ushuaia – accompanied, as it should be, by Suixtil!
And here are the photos that bear testament to it all – at life speed!