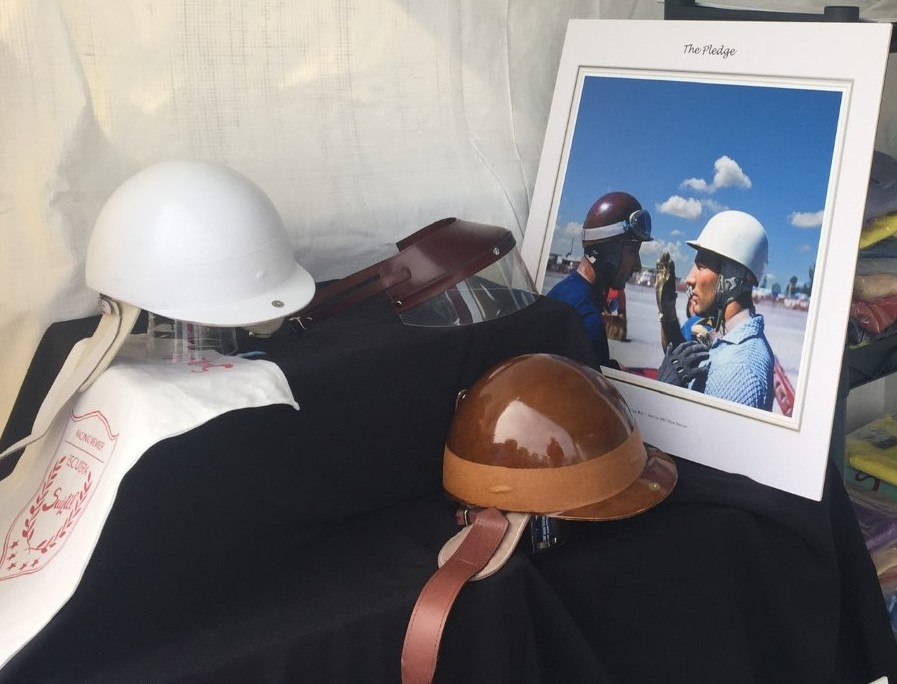 The Amelia Island Concours – what a great show!
We got lucky – it had been a while – since our doctor's orders cleared us, but just for the Amelia Island Concours we had registered for. So we rushed over and, after a road trip without much surprise or hiccups, found ourselves at the top-Eastern corner of the panhandle state in time for the gathering. And while the weather was touch and go for a while, it all turned all right for once.
And a great gathering it was. First centered around the auctions taking place early in the week – we were on site to attend the RM Sotheby's very nice show but short of time to go visit either of the other two major houses that were presenting some lots. And while we were exhibiting your Heritage Line inside the Ritz Carlton that's also the sit of the Concours, we were able to accomplish many of the goals we had set for ourselves. High among these were:
Congratulate our friend Dave (one of the original BARC Boys and still racing like mad today) on his recent successes with Honey Bee (the MGA with a sting) just out of surgery for some body work at Sebring – a legendary track if ever there was one.
Meet our Argentinean correspondants from our

Suixtil

classic helmet division and strategize (a new word for talking during a big friendly meal) and map our plans to expand our offer with more meaningful designs and well thought off  replicas of those helmets that accompanied the greatest champions during the best years of racing bar none.
Meet up with Federico, our newest partner from Vintage Racing Car in Doral, FL, who made the journey so that we would get a chance to meet like real people do – something we might have trouble experiencing for a while,
Get to hook up with as many friends as we possibly could and listen to their comments and recommendations – and more generally trade good stories of what happened with them since we had last gotten together.
Here are the results of those first few days:
We then migrated our operations overnight to be ready for a great show on Sunday and were not disappointed. While it was hard for us to get around much, what with a constant stream of friends old and new dropping by for a chat or for a look at the gear we had brought with us. Luckily, Dave (yes, him again), had undertaken one of his learned expeditions – the comparative study of racing Ferrari cockpits and relative position of instruments clusters in the 1950s. We are glad to submit that amazing collection to your enlightened views and suggest we patiently wait for the monograph that is sure to follow (or not 😉):
We, on our end, were able to capture a few more shots that, hopefully, will give you a sense of how right were during the great event. They will, hopefully too, give you a sense of the depth of the career of Roger Penske (the Captain to us all) who was being honored this year at Amelia and how fortunate we were that M. Warner and his great team were able to gather so many amazing like-minded collectors to share with us what had to be one of the best display in years – but who's counting.
So here we go:
And while we are now back to base and worried about the state of the world and when we will be able to attend such a great event, we have to wish for you all to be safe so that we can, hopefully, soon get together and rejoice around our shared passion – at life speed!