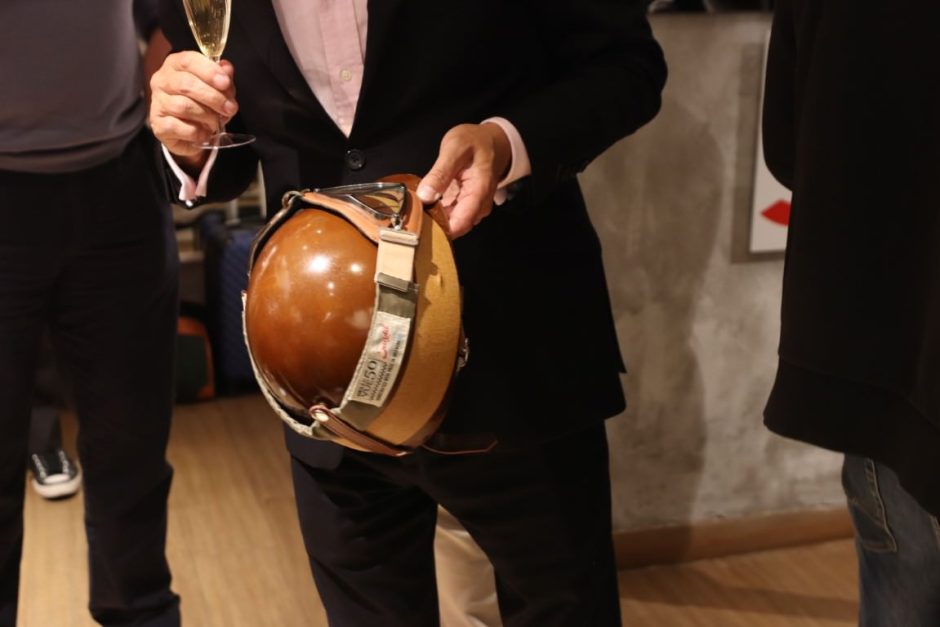 Groundbreaking in Hong Kong
And here we go then, in our own backyard now – you, of course, knew that your brand is headquartered (sounds so much like a JB villain thing – but then again, that new place is  proper lair) in Hong Kong – a dedicated Suixtil – what? It's clearly more than a simple store, even a "concept" one. It certainly share the attributes of a "man cave" (the SIMs upstairs, please!) – though it is also very welcoming for ladies. The volumes also dispel any notion of a cave also as it features this rather grand mezzanine set-up. The plush decoration, from the inviting designer couch to the leather board chairs and table, lend it a clubbish air. And then, of course, the comprehensive displays of everything motor racing –  from a grand collection of impressive historic (Suixtil) images, to a wide assortment of our Heritage collection, surrounded by models and books accumulated over decades, watches that we only dream of – yes, everything is there, and then some.
And we launched it with a grand party, thanks to the owners and partners – we salute them both here, Tony and Harry, who shared our vision that this would represent a grand complement to their existing Car Farm (where you can find us as well, why not?) successful auction site, their exclusive watch platform/exchange, their exotic car maintenance and storage facility and the myriad of other businesses they operate. If ever the word polymath applied, it would be to this long-term friends, for sure. That they shared our ambitions to position your brand differently from a traditional "store" environment and allow it to be framed in such a shrine is a testament to both their sense of vision and great taste.
But why blow our own horn any further – though we could think of a few reasons… – best is that you come and see it for yourselves and tell us what you think – at life speed!
Meanwhile, enjoy the photos of when we partied like it was 1999 to celebrate the proper landing of your brand in Hong Kong, among family, friends and connoisseurs alike – and let us know if you too would like to be on the list for the next time we have another "little-do", it'll be special – we promise!