A new year, some new gloves – what else?
We're very pleased to announce that we have supplemented our Grand Prix gloves offering with a new color – in  British racing green, no less.
Those of you who know us will find it quite natural, even wonder what took so long for such an obviously required supplement. Kinder souls will relish the obsessive attention to details – the branded pullers, the absence of stitching between the thumb and the palm (where the wheel goes, of course!), the suede reinforcements…. and, of course, the buttery softness of the lamb leather, perfectly matched with the classic classiness of the cotton stringback.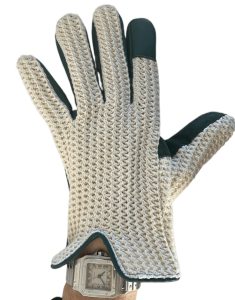 To those, we only want to say – as we usually do – "you're welcome" and remember to send us some photos of them getting the proper exercise regimen in the classic of your choice – at life speed!